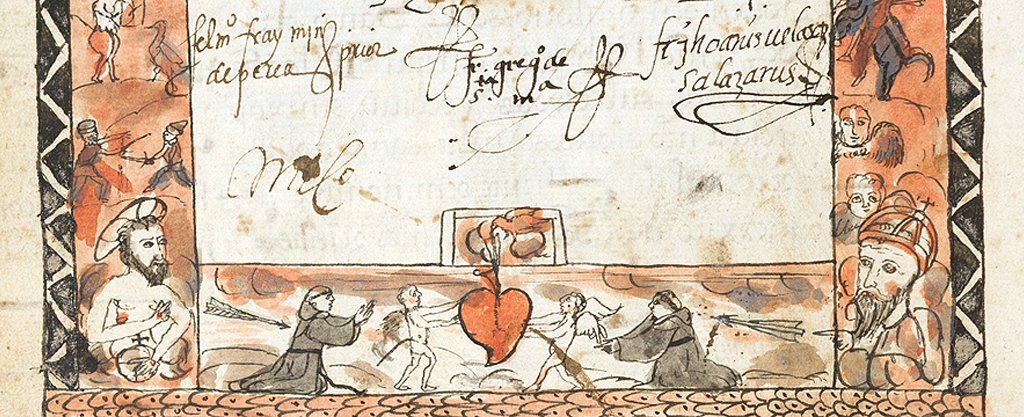 Description
This exhibition focuses on the lives of Augustinian friars who professed to the Augustinian Order in Mexico City's convent. It provides a brief history of the Order in Europe and sixteenth-century Mexico, honing on the act of profession, friars' contributions to New Spain's intellectual community, and their missionary work.
Date Range(s): 1533-1600
Country(ies): Mexico; Puerto Rico; Dominican Republic; Guatemala; Colombia
Course Subject(s): Art & Art History; Indigenous Studies; Latin American Studies; Linguistic & Language Studies; Literary Studies; Religious Studies; Women & Gender Studies; World Geography Studies; World History Studies
Topic(s): Augustinian Order; Catholic Church; Maps; Book History; New Spain; Bishops; Missionaries
Document Types: Records; Drawings; Maps; Engravings; Books
Language(s): Spanish; English
Links
Visit the Exhibition

If you would like to learn how create an exhibition like this, please refer to our Presenting Geospatial Research with ArcGIS (Platform Tutorial).
Rights Statement
Creator(s): Albert A. Palacios, Digital Scholarship Coordinator, LLILAS Benson Latin American Studies and Collections
Date Created: 2020-02-27
Physical Repository: Benson Latin American Collection, University of Texas at Austin
This exhibition and highlighted primary sources are in the public domain.

The Augustinian Order in Sixteenth-Century Mexico (Exhibition)